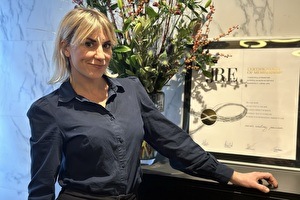 Fine dining's always been a part of my experience
Fine dining's always been a part of my experience
December 1st 2022
Johanna Svanäng, 35 years this year. She is born and raised in the very remote village of Slimming in the South of Sweden. At an early age, she learned how to live a self-sufficient life by growing their own biological vegetables and fruits. My family has always traveled a lot and it became a natural part of my way of living growing up. 

She started her gastronomic journey life as a waitress and restaurant manager in Copenhagen and went later on to Cyprus as Maître de Sala, for a 5-star hotel. After the Cyprus journey, she was asked to come to Italy in Cervinia. A part of her job was still anchored in the world of gastronomy as she was hosting wine tastings and culinary experiences as well for her Scandinavian guests on the skies. 

In 2012 she went to Sweden to take the WSET education in Malmö at the Wine & spirit school "Gustibus". Meanwhile, she worked as an assistant sommelier for a now 2-star Michelin Restaurant, Vollmers. I also joined the Rioja Sommelier award, a competition for new sommeliers. I was representing the south of Sweden together with 2 other women. She even got a stipend for great studies and being at the top of her class.

One year later she had her degree as an international sommelier and she decided to move back to Italy and Piemont, working as a sommelier for Castello Di Tagliolo. Here she learned the full process of growing, bottling, and winemaking as well as becoming an expert with the wines of the region.  She worked in the first and only wine bar in my city, Malmö. Here she met a Mr. Wine Radical, Eric Schnidjder. He has inspired me a lot on the way to gastronomy and wine knowledge. During her studies for her bachelor of Media & Communication, and social anthropology she got an internship to become the market coordinator for a large exhibition company and she started to learn how to organize larger wine & beer exhibitions in Sweden. 
 
She started at Senses restaurant in June 2022 and finds herself like a fish in the water. 
"Fine dining's always been a part of my experience and with my previous knowledge from both 2-star Michelin to cruise ships, and my own hospitality business I feel I can provide you with a lot of knowledge regarding food pairings, wines, and cultural work. I speak 7 languages and I believe that food and culture are the bridge of communication as food has always been a way to connect even above language difficulties and differences. I am thrilled to be part of the Senses family and to give our guests a spark of this amazing feeling during their ultimate experience." Johanna.

We are very happy to have Johanna in the Senses Family to welcome you and give you an amazing experience!